LAMMPS WWW Site
---
August 2013 LAMMPS Users' Workshop and Symposium
The third LAMMPS workshop and symposium for users and developers was held in Albuquerque, NM on August 7-8, 2013. A special session for beginners was held on August 6, 2013.
Abstracts for most of the posters and talks are available through click-able links below.
A list of workshop attendees can be found here: attendees.
All sessions were held in the UNM Continuing Education Building, (1634 University Blvd. NE, map).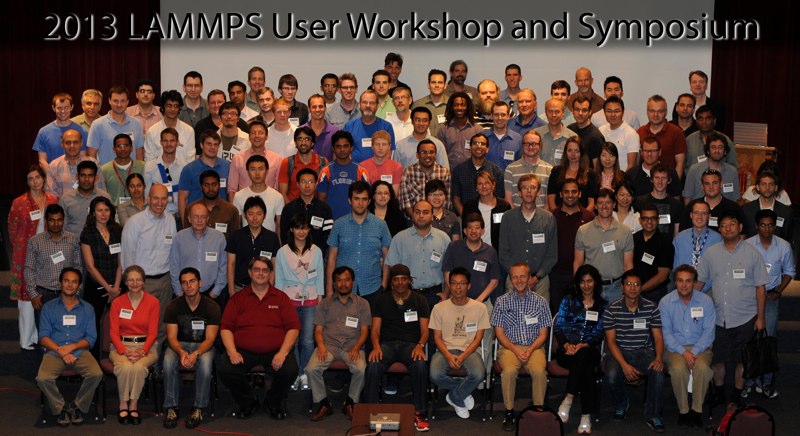 ---
Tuesday August 6, 2013
1 – 4:30 p.m. Beginners' Session (chaired by Paul Crozier)
"An introduction to LAMMPS designed to get attendees up and running with LAMMPS quickly. Beginning with downloading and building, these tutorials will highlight major components of the code with an emphasis on examples and demos. Bring your laptop computer with LAMMPS already installed if possible (and other relevant software already installed if possible: VMD, Pizza.py, a movie maker software package, and Cygwin might be useful if you've got a Windows laptop, MPICH). There will be opportunities for discussion, hands-on work, and questions at the end of each tutorial."
5:00 – 7:00 p.m. no-host dinner @ Tucanos (110 Central SW), organized by Paul Crozier
---
Wednesday August 7, 2013
8:30 – 11:50 Session I: New capabilities, (chaired by Aidan Thompson)
11:50 a.m. – 12:30 p.m. Boxed Lunch, courtesy of Materials Design , (lobby/auditorium)
12:30 – 2:30 p.m. Breakout Session A
Option A1 (room B): Advanced interatomic potentials (ReaxFF, COMB, eFF, etc.), chaired by Ray Shan
Option A2 (room C): Developers / hackers, chaired by Axel Kohlmeyer
Option A3 (room D): Soft materials (biomolecules, polymers, colloids), chaired by Tim Sirk
2:45 – 4:45 p.m. Breakout Session B
Option B1 (room B): Useful tools, (chaired by Christian Trott)
Option B2 (room C): Solid state materials (metals, ceramics, semiconductors), (chaired by Jonathan Zimmerman)
Option B3 (room D): Coarse-grained, mesoscopic, granular, continuum systems, (chaired by Jeremy Lechman)
5:30 – 7:00 p.m. no-host dinner @ Sandiagos (organized by Steve Plimpton)
7:00 - 8:00 p.m. optional Sandia Peak Tram ride, approx. $20 per person (organized by Steve Plimpton)
---
Thursday August 8, 2013
8:30 a.m. – 11:30 a.m. Session II: Faster, more accurate (chaired by Matt Lane)
11:30 – 1:30 p.m. Poster Session (lobby), (chaired by Stephanie Teich-McGoldrick)
and Boxed Lunch, courtesy of Materials Design , (lobby/auditorium)
1:30 p.m. – 4:15 p.m. Session III: Materials science, (chaired by Stan Moore)
Evening: workshop recreational events
---